Termites cause billions of dollars worth of property damage each year. If they enter your home, they will start to eat the wood and this will eventually cause structural damage, resulting in expensive repairs. Termite infestations are hard to eradicate on your own, and you need a pest control company to make sure they are all killed. You should also try to avoid termites in the first place by practicing termite prevention techniques.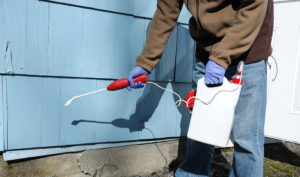 Termites love moist wood and it doesn't take much for them to access your home. Never leave piles of firewood or newspapers near your foundation. You will also want to remove dead and living trees from around your foundation. Termites can get into your home through even the smallest hole, so don't make it easy for them. Seal up any holes around your foundation, and make sure you caulk around pipes and other utilities that enter your home.
Termites sense dampness from inside your home as well, so it is very important that you regularly check your basement and pipes for leaks. If the wood becomes damp, your chances of getting termites go way up. If you live in an area of the country that is prone to termites, you should schedule regular termite inspections to ensure they don't invade your home. Most homeowners insurance policies do not cover termite damage, so you are on the hook for the repairs. The longer you have termites, the more costly the repairs are going to be.
If you like to garden, remember to never attach a trellis to your exterior wall because the termites will be drawn to it and use it to get into your home. You will also want to pay attention to your roof and gutters. Avoid letting leaves pile up in the gutters and fix your roof and your gutters if they are failing. It is also important to avoid any wood in your home from coming into contact with soil.
If you do end up with termites, you can sometimes see their mud tunnels, which look like thin tubes of dirt, running along your walls. You might also find piles of sawdust around your walls and even find piles of shiny termite wings. A good pest control company will inspect your home for free and if they find evidence of termites, they will develop a treatment plan that is going to get rid of the termites fast. They will also work with you on follow up termite prevention treatments to ensure that your home stays termite free.
If you want to keep your home termite free, make sure to regularly inspect your home for termites and follow these prevention measures to help keep them away. Termites are more than happy to make your home their next meal if the conditions are right so don't invite them in. Termites will quickly erode the value of your home and destroy what you have worked so hard to build. Keep your home termite-free.