Of all the pests a homeowner could encounter, termites are one of the worst. Termites consume wood and can do untold thousands of dollars in home damage if left unchecked. But before you attempt to eradicate these invaders on your own, be sure you know what you're getting into and what your options are.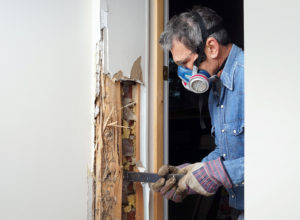 Before calling up an exterminator to treat your home, you should learn what the process entails. The first thing a professional extermination company will do is an inspection. This isn't like a home inspection. Home inspectors look to see if there is any noticeable damage to a home you're considering buying and make note of any non-working appliances or parts of the home. While it's possible that a home inspector may stumble across termites, it's unlikely.
Determining whether or not there are termites on the premises, however, requires a trained specialist. A pest control specialist will visit your home, checking the foundation to make sure no wood is coming into contact with the soil. They'll also inspect for signs of termites, such as droppings, mud tubes or wood shavings. If they see insects or organisms (like leaks, mold, or damp wood), they'll list it in the inspection report.
One thing to be aware of is that with some companies, the inspection may be free but the detailed report that lists the problem areas may require a fee. It is crucial that you have this inspection done by a trustworthy and reputable company, so that you don't end up with a false report and expensive treatments from a shady exterminator when you don't actually have an infestation problem.
Once the problem has been diagnosed, the company will go over your treatment options. This will vary based on the complexity of the situation and the size of your home or area that needs treatment.
After choosing a treatment plan, the company will carry out the extermination. The termite treatment cost will vary from region to region, but the range tends to be from $4 to $16 per lineal foot (pest control companies tend to charge by lineal foot rather than square foot). The chemical will be sprayed in the areas where the pest control expert found evidence of termites and any other areas that may require it. The average home treatment for termites can be around $1,300 to $1,500.
If your home is infested with drywood termites, this may require fumigation which is a more complex process and can range from $1,300 to $2,500. If there is a concern that termites may return, there are monitoring stations that a company could place around your home and they will check on the stations and replace them every month for a fee which is typically paid for on a yearly basis. It's normal to have some termites in the soil but the stations will alert you to any sudden influx of termite activity.
If you've chosen a competent pest control company, you can be assured that your termite problem will be eradicated and the termite treatment cost will save you time and money by eliminating the problem before it can cost you thousands in home damage.